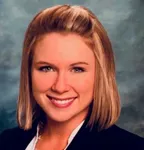 Dr. Kuntz is happy and grateful to join forces with Dr. Charyl Weingarten and the team at Lino Lakes Family Dentistry to bring her care and unique skill set to the local community. She is a certified Invisalign provider and excited to offer her expertise in airway health, dental sleep medicine and TMJ disorders. Dr. Kuntz takes a whole-body approach to care, helping patients uncover how the conditions of their mouth reflect the health in the rest of the body. She can help restore your dental health and offer insightful guidance on ways to boost your body's natural ability to heal and prevent future disease. She is passionate about early identification and correction of airway problems in children that can affect sleep, growth, and overall health.
Dr. Kuntz completed her ungraduated studies at North Dakota State University and graduated with her Doctor of Dental Surgery degree from Creighton University School of Dentistry in 2011. She has completed hundreds of additional hours of education on dental airway and sleep medicine, tongue ties, myofunctional therapy, orthotropic orthodontics, and TMJ disorders. She is certified to perform laser-assisted surgery for the correction of tongue and lip ties in infants, children, and adults, and recently completed her mini residency in craniofacial pain. Dr. Kuntz is currently a member of:
American Dental Association
Wisconsin Dental Association
Northwest Wisconsin Dental Society
American Academy of Dental Sleep Medicine
American Academy of Physiologic & Dental Medicine
American Laser Study Club
When she isn't in the clinic, Dr. Kuntz enjoys spending time outdoors with her family gardening, hunting, fishing, and watching her two boys play for their local hockey league. In her quiet time, she likes to read, star gaze, and spend time near the water.